To help University of Maine Pulp and Paper Foundation (UMPPF) students find the right co-op and/or full-time employer that fits their skills and personalities, UMPPF President Carrie Enos and Program Director Jennifer Ireland make it a point to visit and familiarize themselves with locations UMPPF works with.
This past summer the duo travelled to Michigan to visit Graphic Packaging in Kalamazoo and Packaging Corporation of America in Filer.
Here's what they had to say about the trip: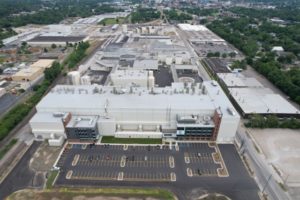 "Arriving at Graphic Packaging, we had the opportunity to tour much of the campus, including their recycled pulping operation, K1, K2 and K3. The facility houses 100 years of papermaking in one place!
We also got an up-close look at Graphic Packaging's new, state-of-the-art, four-story paper machine, which will produce 1,400 tons of recycled paperboard per day! Seeing the evolution and the process really helped us to understand the opportunities available for our students.
Later, we had the opportunity to meet with UMaine alums Scott LeBeau, Vice President of Recycled Mills at Graphic Packaging, and Ron Sherman, K1 Superintendent. Also joining us were Plant Manager Thomas Olstad and Jen Lechlitner, Technical Services Manager at Kalamazoo. They were wonderful hosts who led us through detailed tours and discussions that will help to shape our conversations with students moving forward. This $600 Million investment provides long-term job stability and is perfect for students seeking highly technical careers in a fantastic work environment. Graphic Packaging estimates that over 40% of North American recycled paperboard will be made at this mill; chances are that when you are at the grocery store, you're looking at a lot of boxes made in Kalamazoo!
Following the tour of Kalamazoo, we traveled north to PCA's Filer Mill. We stayed in Manistee on the shore of Lake Michigan, which reminds us very much of the coast of Maine! We walked on the beach, explored the downtown and Riverwalk, and then had dinner with UMPPF alums and students working at the PCA Filer Mill. Joe Lancaster and Emma Wilkinson, both CHE '18, Ethan Dapice, CHE '19, and current UMPPF sophomore Peyton Chahley joined us at dinner along with Holly Koschtial, Human Resources Manager, and Jodie Cameron, Human Resources Generalist.
The following day we were hosted by Mill Manager Paul Cova on a mill tour. It began with their unique pulping process and encompassed three board machines. (The view from the top of the boiler stack is incredible!) Overall, we were impressed by the knowledge, self-reliance, and skill base in-house at this mill. We also toured their roll rebuild and repair area, the machine shop, and learned about the precision maintenance teams that are spread across the PCA organization. (The uptime on these machines is phenomenal, making for a team that is forward-thinking rather than reactionary.)
For students who want to see their ideas and projects quickly implemented without much red tape to work through, PCA is a place where they can feel a sense of accomplishment without having to navigate layers of approvals prior to getting started. We could easily see why our alums enjoy working at this facility. The group is close-knit, enjoying activities outside of work such as running, trivia night, biking, and going to the beach. It felt a lot like being at home!
We are grateful to both Graphic Packaging and Packaging Corporation of America for their financial support of our students and for offering co-op and full-time placement opportunities. Thank you!"