Ten days, seven pulp & paper sites, and Paris too!
By Carrie Enos, President, University of Maine Pulp and Paper Foundation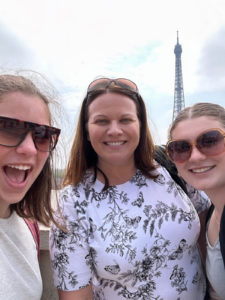 In May, 14 students participated in UMaine's TREE (Tappi Research Expedition Europe) trip through Amsterdam, Germany, Belgium, and France to tour a wide array of pulp and paper industry facilities. Over 10 days we visited seven different sites, including equipment manufacturers, pulp and paper mills, and printing and converting plants. Students observed facets of the pulp and paper industry that they had never seen before, and for many this was their first trip to Europe.
Our journey began in the Netherlands with a visit to Smurfit Kappa's Parenco Mill in Renkum, located on the banks of the Rhine River. There we saw a 9-meter-wide machine that had been converted to packaging grades (fluting and testliner) as well as a graphic paper machine. We also watched the paper recycling process and got an introduction to the theme of sustainability—a theme that would resonate throughout the rest of our trip.
From Renkum, we traveled to Germany to visit Graphic Packaging's AR Packaging facility in Aachen. They specialize in folding cartons in the fine fragrance, beauty care and confectionery sectors. There were many unique aspects of production that the students had never seen before, so it was eye-opening. We were so fortunate to be hosted by the AR Packaging team for dinner and given a personal tour of Aachen, which is a beautiful and historic city.
Our next stop was Ghent, Belgium. We toured Stora Enso's Langerbrugge site, where they make newsprint and magazine paper but also host an FDCA Pilot Plant, where they are working to replace fossil-fuel based with renewable packaging solutions. Some of our seniors on the trip had just completed a capstone project utilizing a very similar bio-based process, so this discussion was particularly engaging as they batted ideas around with the Pilot Plant site manager.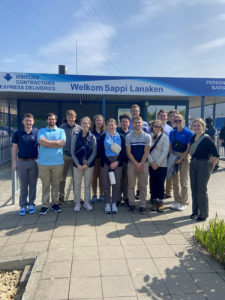 Sappi sponsored our stay in Maastricht, where we toured their Research and Development Center as well as their Lanaken Mill. Lanaken is a fully integrated mill that makes CTMP from sawmill waste and tree prunings from durable forest maintenance. The mill then produces several fine coated papers for heat-set web offset printing. We also participated in a workshop on Sappi's Valida fibrillated cellulose, which is a multi-functional additive that can be used as a rheology modifier and stabilizer in personal care and home care products. It was unlike anything the students had seen in the US. The Sappi team arranged a guided tour of Maastricht for us and then hosted us for a wonderful dinner.
Andritz graciously hosted our group again on this TREE Trip, and we toured two of their manufacturing sites. First was the Andritz Fabric and Rolls facility located in Düren, Germany. We witnessed the production of forming fabrics on giant looms and learned about dryer felts and shoe press belts. The students had seen various pieces of machine clothing while co-op'ing but had never seen how they're manufactured, particularly on such a large scale.
We toured a second Andritz facility in Krefeld, Germany, that specializes in rolls for the paper, board, nonwoven, and textile industries. Andritz Küsters showed us how a world leader in roll technology develops, tests, and implements solutions for its customers. We saw a variety of processes ranging from full-size lathes to a pilot-plant sized calendar that demonstrated the principles of zone-controlled rolls. The students were continually amazed by the cleanliness and organization of these shops.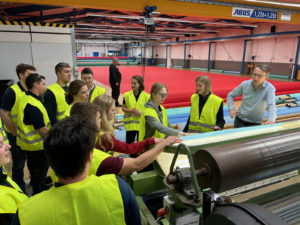 The trip offered many benefits not strictly related to technology in the pulp and paper industry as well. We became familiar with Europe's incredible rail system and utilized it to travel quickly from country to country. Although we had many early morning train rides followed by long days of touring and learning about the manufacturing facilities, we also found time to have fun. We spent the weekend in Paris and saw the Eiffel Tower,Arc de Triomphe, Notre Dame Cathedral, Moulin Rouge, Jardin des Tuileries, Place de la Concorde, Pont Alexandre III, Musée du Louvre, and more. We sampled croissants, baguettes, crepes, fresh strawberries, and espresso. Throughout our trip, we were impressed by the incredible sense of pride we saw in each country as we listened to the locals talk about their landmarks, history, and culture. The best part was getting to interact with the people who brought each site visit and city to life.
We experienced first-hand how pulp and paper is a rapidly evolving industry that offers endless opportunities to students who want to create real change in the world and advocate for a sustainable future. This was truly a once-in-a-lifetime adventure which created memories that we will always cherish. We are so thankful to each donor who made this trip possible.